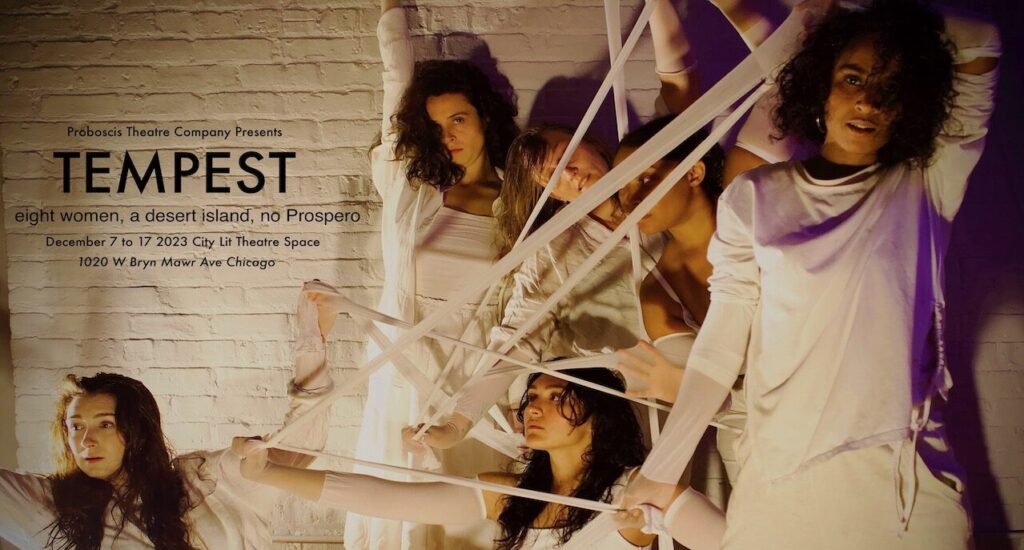 Proboscis' newest work is a dreamy adaptation of Shakespeare's The Tempest. Eight women find themselves on a metaphorical desert island and discover that Prospero doesn't exist. This highly interactive yet intimate production synthesizes great poetic language, engrossing drama, and virtuosic physical storytelling into an entertaining and achingly beautiful performance.
Prospero's Black Box is a one-person clown show that explores the absurd connection between Shakespeare's Prospero and Google's Geoffrey Hinton as they wrestle with the power of Artificial Intelligence and Virtual Reality. In this highly participatory solo performance (the audience plays a huge role in the storytelling) the clown tries to solve the problem of the black box algorithm with hilarious and provocative results.
words from a cuban father
Words from a Cuban Father is a one-woman show created and performed by Actor/writer/movement artist Alina Ceñal. Mambo, carnival, revolution, my father and Fidel, Miami, hotdogs, drag queens, the circus, Hollywood, music and dance highlight Cenal's bilingual experience of being yanked from her native Cuba as a child and yearning to return
Master American Mime and Movement Artist takes us on a journey through rhythms and musical storytelling. James Donlon has performed his celebrated original mime work in Europe, North America and Latin America since 1970. The New York Times describes his shows as "An extraordinary blend of skill and lunacy." His athletic style explores the state of dreams, social commentary and surreal worlds. James has been a movement coach for Oscar winners Javier Bardem, Kathy Bates and Frances McDormand. He is a master teacher in many of the world's most important theater conservatories.
james donlon master class
Master teacher James Donlon guides students through aspects of his ingenious and original training method based in the great world theater traditions of physical expression, Neo-classic clown and mime. Donlon creates a safe place where students explore dramatic structure, and how to discover characters that can thrive on any stage and in any film. Students learn the elements of time, space, energy, and discipline to create transcending theater.
Celebrate and socialize with the artists, supporters and fans of Proboscis Theatre Company. Share in the inspirations and creative electricity that drives these talented theatre makers! There will be games, music, prizes, special drinks and snacks!! Help make the Ol'Factory Festival a Chicago mainstay and keep live theatre ALIVE!