House of Circe
October 2022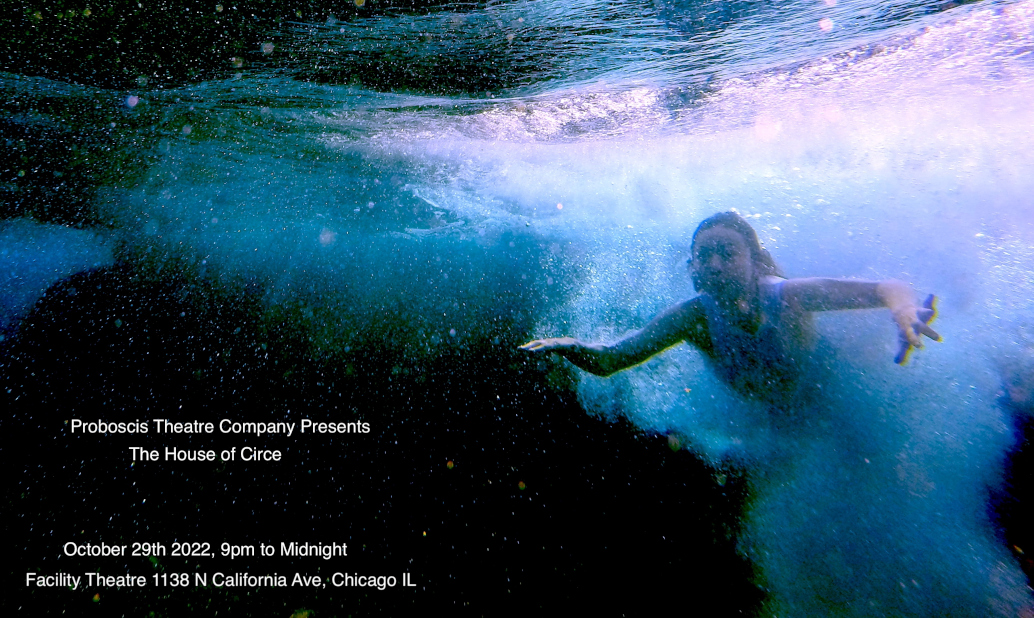 a new choose-your-own adventure style immersive experience
The House of Circe is an immersive theatrical experience where Greek myths are embodied in an intimate, contemporary setting. Scenes from ancient stories are dramatized in various rooms in the house. Spectators are free to wander, explore and witness. Circe and her ensemble are dedicated to promoting catharsis (the release of dark energy) encouraging all participants to visit the Hall of Asclepius (God of healing and medicine) where they can meditate, process, receive healing Acro-Yoga-massage sessions, and a Sound Bath. This unique theatrical experience goes beyond entertainment and provides many benefits for mind, body and spirit.
Five Chambers in the House of Circe
Artistic Leadership, Curation/Direction – Jeff MIlls, Ashlea Woodley
Intimacy Director – Courtney Abbott
Costumes – Lucy Elkin
Lights – Kevin Wleklinski
Costume Consultant – Lucy Elkin
Circe – Tia Pinson
Ariadne – Chloe Rodriques
Athena – Charlotte Markle
Hecate – Kimberly Logan
Daedalus – Mike Dias
Medea – Amelia Hernandez
Jason – Keith Illidge
Hermes – Ashlea Woodley
Medusa – Olivia Rose Nathan
Iaso/Terpsikhore – Kerry Walsh
Poseidon – Jeff Mills
The Xenos (our audience members) are welcomed by Circe, (Xenia, or the custom of offering protection and hospitality to strangers was a vital custom in ancient Greece, commanded by Zues himself) who offers them libations, comfort, stories and a face mask with a pig nose (lighthearted nod to Circe's reputation for turning men into pigs.) She then encourages the Xenos to visit Hecate, who draws a card of fate, directing them to their first chamber. Once they draw a card, Hermes guides them to the fated chamber.
Once an hour, the entire ensemble meets in Circe's Parlor (calling the Xenos into the room as well) to participate in a ritual that honors Hecate. Circe leads the ritual while Medusa and Medea (both devotees of Hecate) are the primary participants. The Xenos are encouraged to participate as well, by the ensemble.
Medusa, a young erotic dancer (master of Eros) dances and tells her tale of how stripping (turning men to stone) has empowered her journey toward healing sexual trauma.
Conceived and Written by Olivia Rose Nathan
Directed by Jarred Webb
Intimacy Director: Courtney Abbott
In this chamber of total darkness, the Xenos experience the aural analog of Daedalus' labyrinth. Athena and Ariadne encourage the Xenos to use wisdom, intelligence and grace, to get through the Labyrinth soundscape. "The isle is full of noises" as dark, evil forces alter perception, distort truth, supply disinformation, and degrade confidence in reality.
In this chamber, Medea and Jason will dance through the entire journey of their relationship. Mostly non-verbal, the Xenos will follow this power couple through all the ups and downs, from triumphant conquest of the TAUROI KHALKEOI, the fire breathing bulls, the attainment of the golden fleece, the great escape and the murder of Medea's brother. We will also dramatize their arrival on Circe's Island, where they take advantage of Circe's xenia and ask for purification of their crimes under false pretenses.
In this chamber, Iaso reigns with her muse, Terpsikhore, and provides a healing bath of sound. Singing bowls, drums, flutes, voices. Asclepius provides a base for Xenos to fly and get some hands-on healing. Other members of the ensemble pop in to base, sing, or actively listen to the Xenos who want to process by talking.
The Queens of Infinite Space
May 2022
We are proud to present our workshop production of THE QUEENS OF INFINITE SPACE. This saucy Proboscis Theatre original work intertwines the relationships of Danish astronomer Tycho Brahe, Queen Anne, and Shakespeare (portrayed by Tia Pinson); it explores what it means to be an outcast to society, "but to thine own self be true"; laced with humor and sex, comedy and tragedy, it will undoubtedly crack wide open the universe contained both outside of ourselves, and within.
This is Proboscis Theare Company's third Chicago Production and the first to be devised by an "All-Chicago" ensemble of actors.
THE QUEENS OF INFINITE SPACE follows William Shakespeare (Tia Pinson) as they attempt to write their next masterpiece in the wake of a massive public health crisis. It's 1603, the Bubonic Plague is waning, the Globe Theatre is set to reopen and Shakespeare is hungry to produce their new social justice drama… but everyone just wants Hamlet!
Want to have a star named after you in the play? An improvised poem read to you? Or even a selfie with the stars? All perks for early donators!
We are proud to partner with Links Hall to present our workshop production of Queens of Infinite Space.